Ajile Light Industries has been invited to present its research into a novel method of 3D calibration with a single-pixel camera at SPIE Photonics West 2017. The research was done in partnership with the University of Ottawa Paradise Research Laboratory and with the support of The National Research Council. This was part of a long-term NRC-IRAP project aimed at improving the accuracy of 3D imaging by using digital micromirror (DMD)-based imaging in scientific and industrial applications.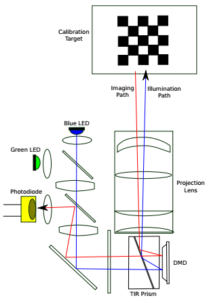 The researchers determined that by using a single optical path to project and capture images, sources of error were reduced and accuracy improved. This was done with a coarse-to-fine scanning technique to enable sub-pixel accuracy, and could become an important tool in the future of 3D metrology.
The single-pixel camera is used in a variety of challenging applications, and it is hoped that the methods described in this research will contribute to broader developments in their use. Along with these types of improvements to imaging quality, acquisition speeds are also being made by groups like this one working on balanced detection alongside complementary illumination. Together, these are making single-pixel cameras practical solutions for a more broad range of uses.
The presentation will be held on January 30th as part of the "Emerging Digital Micromirror Device Based Systems and Applications" sessions at the Moscone Centre in San Francisco, CA (USA). See here for details.