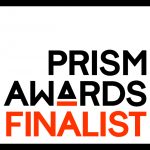 Ottawa, ON – Ajile Light Industries has been recognised for their innovative 3D imaging technology at North America's largest optics and photonics conference, SPIE Photonics West. Named finalists in the SPIE Photonics West Prism Awards in the "Imaging & Cameras" category, Ajile Light Industries shares this distinction alongside photonics giants such as Nikon, Trumpf, Leica, and Hamamatsu.
"We're pleased to be named Prism Awards finalists for our DepthScan 3D imaging system," said Alan Boate, Ajile Light Industries' President & CEO. "The unique feature of the DepthScan is its ability to provide both very high resolution and very fast 3D imaging, offering solutions to fulfill a variety of roles including robotic guidance for 'pick and place' as well as metrology and optical inspection."
The Prism Awards, now celebrating its 11th year, is a leading international competition that honors the best new photonic products on the market. For consideration in the 2019 Prism Awards, SPIE received 120 applications from 15 countries. The winners will be announced on Wednesday February 6, 2019 at a gala dinner in San Francisco during SPIE Photonics West 2019.
In addition to attending the Prism Award ceremonies, the Ajile team will be demonstrating the DepthScan and their DMD controllers at the SPIE Photonics West Exhibition from February 5-7 (Booth #4457), and will be presenting their paper on "Structured light 3D measurement of reflective objects using multiple DMD projectors" at the Emerging Digital Micromirror Device Based Systems and Applications XI conference on February 6th, 2019.
About Ajile Light Industries:
Ajile is a world leader in 3D imaging with its accurate and flexible DepthScan 3D imaging system. With its high accuracy and speed over a large imaging volume, the DepthScan is ideal for vision guided robotics, industrial inspection and metrology. The system delivers point clouds having over 4 million accurate color points at 2 Hz, or up to 30 Hz at reduced resolution. DepthScan systems are based on Ajile's own smart camera and DMD structured light projector.
—
Contact:
Amy Longard
Public Relations Manager
info@ajile.ca