Fast, Accurate, Full-Color 3D Imaging With Ajile's DepthScan 3D
July 24, 2019
Ottawa, Canada: The new Ajile DepthScan 3D is now available; bringing fast, accurate, full-color structured light 3D imaging to a broad range of manufacturers and automation professionals. The system's flexibility makes it an ideal solution for robotic guidance, with factory calibration enabling a working distance from 25cm to 450cm. Eye-safe and accurate to 50 microns, the DepthScan is garnering interest for use in automotive manufacturing and quality control applications.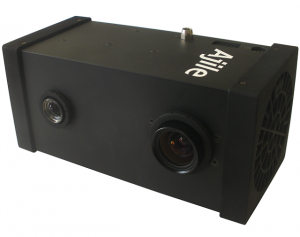 The system also comes with a suite of software tools for analysis, which are fully compatible with other 3rd-party software. Output may be viewed on a console, analyzed directly, or exported for further manipulation. Comprehensive SDK documentation makes setup straightforward, and customization support is also available.
The DepthScan 3D system is Ajile's latest and most ambitious offering, after the company's scientific structured light projector and DMD (digital micromirror device) controller, both of which are being used in university labs and research centres worldwide. The 3D scanner incorporates both of those with Ajile's own smart camera to achieve low latency synchronization for faster and more robust scanning.
With strong technical capabilities, ease of setup and a competitive price point, the DepthScan is well positioned to establish or upgrade users' automation systems. "This is one of the most flexible 3D systems on the market, and is ideal for robot guidance applications" says CTO Jeremy Gribben about the product.
Structured light 3D imaging has several advantages over other approaches such as passive stereo vision or time-of-flight cameras. In particular the area scan method used is fast, accurate, and does not require moving parts to capture a complete image. Improvements to image processing algorithms along with hardware and optical configurations are constantly making this approach more useful in real world applications.
About Ajile Light Industries:
Ajile Light Industries has developed a suite of hardware and software tools for research and industry using structured light and 3D image processing. The company is independently owned and has developed all of its technology in-house, resulting in tight synchronization rarely found between components in modular systems. The company also works closely with the research community and provides customized solutions for clients. For more information visit www.ajile.ca or email rgribben@ajile.ca.