Ajile Light Industries at Photonics West 2018

The team at Ajile is excited to be heading to San Francisco from January 27 to February 1 to exhibit at SPIE Photonics West 2018, for our third year at the world's largest event for the laser and photonics industries. The program includes courses, seminars, research presentations, and training, plus thousands of exhibitors from dozens of  countries at the main exhibition. Last year's attendance topped 23,000, and the organizers at SPIE are anticipating  a similar turnout at this year's event.
Of particular interest is the annual Conference on Emerging Digital Micromirror Device Based Systems and Applications. This is a platform to showcase new DMD based research, and is sponsored by the Texas Instruments DLP group.
The conference includes six sessions, each highlighting different aspects of DMD uses in novel ways. In the 2017 computational imaging session, Ajile CTO Jeremy Gribben presented research from Ajile Light Industries in collaboration with the University of Ottawa Paradise Research Laboratory on the use of a single-pixel camera for 3D imaging calibration. Other sessions at the conference are computational imaging, advanced manufacturing, 3D metrology, advanced microscopy for biomedical imaging, ophthamological biomedical imaging, and novel & advanced applications.
New Releases at the Exhibition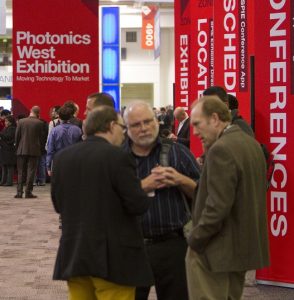 The Ajile team at booth 4446 in the Canada Cluster will be showing live demos of our latest developments. The Ajile Lumenator, our DMD control system, was launched at last year's show and will be on display again in both form factors (the AJD-4500 DMD Controller and the AJP-4500 Structured Light Projector). Additionally, Photonics West 2018 attendees can see our newly released triggering interfaces and USB3.0 Add-On in action on both of these.
Our team has also been focused on improvements to our newly released 3D imaging technology. At last year's Photonics West Exhibition we showed an early version of our 3D scanner, which we were using for full-color face scans in just 250ms. Since that time we have made significant improvements to image quality, added GPU processing for far greater processing speeds, and enabled USB3.0 communications to greatly improve capture speeds. This will also be the first chance to see the scanner's new compact industrial housing – visit our booth to see it!
Visit us in the Canada Cluser at booth 4446
E-mail rgribben@ajile.ca to schedule a meeting at the show